About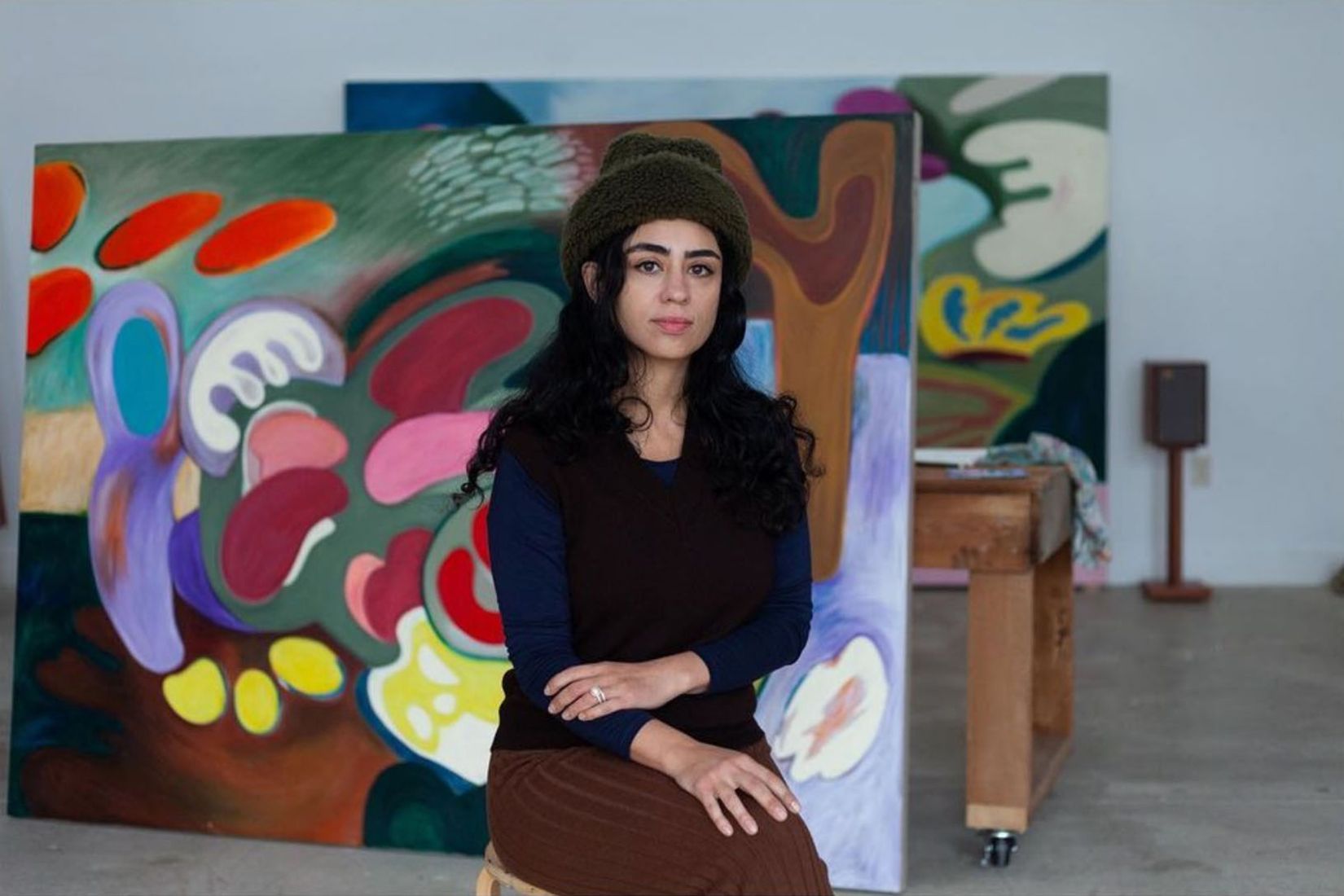 For inquiries please contact:
Timothy Taylor Gallery
74 Leonard Street, New York, NY 10013
info@timothytaylor.com
+1 (212) 256 1669

Jessica Silverman Gallery
621 Grant Avenue, San Francisco, CA 94108
info@jessicasilvermangallery.com
+1 (415) 255-9508


Hayal Pozanti (b. 1983, Istanbul, Turkey) paints lush, swirling organic forms in rich jewel tones, unfolding in scenes evocative of nature and the rising tide of the subconscious. She lives and works in Manchester, VT.
'Painting is my way of understanding the physicality of the world, becoming one with the world,' says Pozanti, whose work has undergone a marked shift in the past five years. Organic shapes evoke half-moons, sea foam, animals and falling waves, expressing amoeba-like forms in fantastical abstract landscapes. The flourishing growth of nature in Pozanti's work is both a metaphor for the human imagination and a vision of life beyond human exceptionalism.
Pozanti received an MFA from Yale University and became known in the early 2010s for her abstract paintings of geometric neon forms inspired by technology, the constant presence of statistics in our lives, and the aesthetics of the internet. During this time period, Pozanti theorised a visual vocabulary of hieroglyphs that allowed her to translate fragments of data on human behaviour into paintings, creating complex snapshots of our reliance on technology.
However, Pozanti's investigations of artificial intelligence and technology lead her to question how absent the roles of intuition, emotion, and connection to the natural world have become from contemporary lives. With a growing concern for climate-related disaster, Pozanti decided to shift focus in her life and work to consider new worlds inspired by the beauty of the natural landscape in her current home of Vermont. The angular, cipher-like forms in her paintings blossomed into soft organic landscapes reminiscent of science fiction ecologies filled with mysterious biological life forms in amoeba-like shapes, related in colour and form to Jean Arp and Wassily Kandinsky, who likewise hoped to create abstract worlds that held universal truths about reality.
Pozanti has been awarded large-scale public projects and commissions by the New York Public Library, NY; Public Art Fund, New York, NY and Cleveland Clinic and Case Western, Cleveland. Her work has been presented in institutional solo shows at the Aldrich Contemporary Art Museum, Ridgefield, CT and the Brooklyn Academy of Music, New York. Her work is in the permanent collections of Eli & Edythe Broad Art Museum, East Lansing, MI; Los Angeles County Museum of Art (LACMA); San Jose Museum of Art, CA; and the Hammer Museum, Los Angeles, CA.
Curriculum Vitae
Born 1983 in Istanbul, Turkey
Lives and works in Manchester, VT
MFA, Painting/Printmaking, Yale University, New Haven, CT, 2011
BFA, Visual Arts and Communication Design, Sabanci University, Istanbul, Turkey, 2004
Public Projects and Commissions
2020
Instant Paradise, The New York Public Library, New York, NY
2019
Cleveland Clinic and Case Western Collections, curated by Joanne Cohen, Cleveland, Ohio
2017
Commercial Break, Curated by Public Art Fund Associate Curators Emma Enderby and Daniel S. Palmer, Westfield World Trade Center, New York, NY
Solo Exhibitions
2023
The World for a Mirror, Timothy Taylor, New York, NY
2022
Lingering, Jessica Silverman, San Francisco, CA
2018
Murmurs of Earth, Jessica Silverman, San Francisco, CA
2017
.tr, Dirimart, Istanbul, Turkey
2016
Fuzzy Logic, Rachel Uffner Gallery, New York, NY
Corpus, Levy.Delval, Brussels, Belgium
2015
Deep Learning, The Aldrich Contemporary Art Museum, Ridgefield, CT
Scrambler, Halsey Mckay Gallery, East Hampton, NY
Ciphers, Jessica Silverman, San Francisco, CA
2014
The Armory Show with Jessica Silverman, New York
2013
Passwords, Duve, Berlin, Germany
New Paintings, Susanne Vielmetter Los Angeles Projects, Los Angeles
2012
Co-Real, Jessica Silverman, San Francisco CA
Group Exhibitions
2021
Tangerine Dreams, Various Small Fires, Seoul, South Korea
We Are Here, Jessica Silverman, San Francisco, CA
2020
South East North West, San José Museum of Art, San José, CA
Conversational Spirits, Jessica Silverman, San Francisco, CA
Sweet Release: Recent Prints from Tamarind's Workshop, Tamarind Institute, Albuquerque, NM
2019
AMOUR, Tropez Tropez, Berlin, Germany
2018
21st Century Cyphers, 516 Arts, Albuquerque, NM
The Barn Show, Johannes Vogt, New York, NY
Kinship, Jessica Silverman, San Francisco, CA
Form Shapes Language, Morán Morán, Los Angeles, CA
2017
Loss for Words, BAM (Brooklyn Academy of Music), Brooklyn, NY
Commercial Break, Public Art Fund 40th Anniversary, New York, NY
Worlding, curated by Mia Curran, Western Michigan University, Kalamazoo, MI
2016
That feeling, curated by Domenico de Chirico, Eduardo Secci Contemporary, Florence, Italy
The Present and the Probable, curated by Jessica Silverman, fused, San Francisco, CA
Future Form, Gamma Galleria, Guadalajara, Mexico
From Minimalism into Algorithm, The Kitchen, New York, NY
2015
I was once lonelyness, Blain Southern, Berlin, Germany
Then They Form Us,MCA Santa Barbara, Santa Barbara, CA
RE(a)D, Nathalie Karg Gallery, New York, NY
GIF, Super Dakota, Brussels, Belgium
Women and Abstraction, Cornell Fine Arts Museum, Winter Park, FL
REUNION, Sabanci Museum, Istanbul, Turkey
2014
Prospect.3, International Contemporary Art Biennial, New Orleans
Burned by the Sun, Mallorca Landings, Palma de Mallorca, Spain
Chalk Blush, Kinman Gallery, London, UK
Edge of Continuation, Pablo's Birthday Gallery, New York, NY
2013
Spectators, Rendered and Regulated, Leo Koenig Inc., New York, NY
Gattaca, Michael Jon Gallery, Miami, FL
Diff'rent Strokes: Small Paintings and Intimate Performances, Louis B. James., New York, NY
2012
Beyond the Object, Brand New Gallery, Milan, Italy
Black Lodge, Interstate Projects, New York, NY
2011
Forms and Inflections, Silverman Gallery, San Francisco CA
Thesis show, Yale University Art Gallery, New Haven
Elsewhere, Bahcesehir University, Istanbul
Selected Screenings
2015
Strangelove Moving Image Festival, curated by David Gryn, Central Saint Martins, London, England
2014
Artprojx Cinema, curated by David Gryn, Art Basel Miami Beach Film, Miami, FL
Bibliography
2023
Yerebakan, Osman Can. "Hayal Pozanti's Paintings Speak Her Daily Daydreams" Canvas Magazine. May 18th, 2023.
Laster, Paul. "Hayal Pozanti in 8 Must-See Gallery Shows Around the US This May", Galerie Magazine. May 2nd, 2023.
Gokirmakli, Ilgaz. "Inspired by Nature" Vogue, Turkey. May 1st, 2023.
Urist, Jacoba. "Hayal Pozanti in Your Guide to the Must-See Shows in Lower Manhattan" Cultured Magazine, April 28th, 2023.
Ruffner, Zoe. "Culture Matrix | Hayal Pozanti: The World for a Mirror" Air Mail, April 20th, 2023.
Kazanjian, Dodie. "Artist Hayal Pozanti Embraces a Language All Her Own" Vogue, April 18th, 2023.
2022
"Hayal Pozanti: Lingering." Variable West. January 25, 2022.
Falco Raez, Constanza. "Hayal Pozanti | New Exhibit 'Lingering' at Jessica Silverman." Flaunt, January 14, 2022.
2021
Yerebakan, Osman Can. "Hayal Pozanti's Very Own Alphabet Blankets the Renovated New York Public Library Ceiling." Interior Design, November 8, 2021.
Alexis Kleinman. "A Case For Keeping It Random," The New York Times, January, 2021.
2020
Artsy Editorial. "20 Artists on the Work They Made in 2020," Artsy, November 20, 2020.
2019
Greenberger, Alex. "'Anyone Can Be a Roboticist': Artists and Technologists Team Up for Rhizome's Seven on Seven Conference." ARTnews. April 29, 2019.
2017
Tiffany, Kaitlyn. "How one artist's 'encrypted' paintings memorialize the concept of privacy." The Verge. September 26, 2017.
Rodney, Steph. "Aiming to Disrupt Ads in New York City, Artworks Instead Blend In." Hyperallergic. February 26, 2017.
Sharp, Sarah Rose. "How Art Making Is Like World Building." Hyperallergic. January 30, 2017.
2016
Alexandra Ogilvy, Flora. "An Interview with Turkish-born Artist Hayal Pozanti in her Studio in Queens, New York". Arteviste. September 30, 2016
de Chirico, Domenico. "Hayal Pozanti — Corpus, Levy Delval". Aujourd'hui. May, 2016 Cooper, Ashton. "Code Call." Cultured. March, 2016.
Hodara, Susan. "Painting Overtakes Pixels in Aldrich Museum Exhibition." The New York Times. February 18, 2016.—. "Cultured Commission: Code and Cuneiform", Cultured Magazine. February, 2016.
Campuzano, Rodrigo. "Abstract Paintings Bring Sculptural Data to Life," The Creators Project. February 13, 2016.
Ray, Melissa. "Painting Patterns." Postmatter. February 10, 2016
2015
Messinger, Kate. "Art Basel Artist of the Day: Hayal Pozanti." Paper. December 6, 2015
Dunne, Susan. "Contemporary Artists' Reinvented Paintings At Aldrich, Lyman Allyn, UConn." Hartford Courant. November 12, 2015.
–. "Things to Do in Connecticut Nov. 6 to 15, 2015." The New York Times. November 6, 2015.
Braithwaite, Hunter. "An Abstract Alphabet." Modern Painters. November 2015.
Gottschalk, Molly. "Hayal Pozanti on Her Data-Driven Paintings and What It Means to Be Human." Artsy. October 16, 2015.
Messinger, Kate. "Shells and selfies in the Hamptons — Everything we saw and heard at this week's out of town art shows." Paper Magazine, July 17, 2015.
Arkunlar, Merve. "Hayal Pozanti." Vogue Turkey, June 2015.
Hotchkiss, Sarah. "No Decoder Ring Necessary." KQED, March 7, 2015.
Wilczek, Beata. "Painting, Daydreaming and Dancing with artist Hayal Pozanti." Wovo, January 14, 2015.
2014
Brown, Will. "Materials and processes are pushing the boundaries of what constitutes a painting physically." Studio International. November 11, 2014.
Akel, Joseph, "Signs and Wonders: In the Studio with Hayal Pozanti," The Paris Review, June.
Conley, Kevin. "10 Artworks to Visit While People Watching at the Armory Show." Town & Country, March.
Zimmer, Lori. "The Armory Show is Here to Stay." The Huffington Post, March.
Smith, Claude. "Hayal Pozanti at the Tamarind Institute." New American Paintings, February.
Artsy Editorial. "In The Studio With Hayal Pozanti." Artsy, February.
Stevens, Alex Forbes. "Reviews in Brief: Berlin." Modern Painters, February.
2013
Pagel, David. "Review: Hayal Pozanti's Paintings Will Leave You Wanting More." Los Angeles Times, November.
2012
Braithwaite, Hunter. "Hayal Pozanti: Six Paintings and a GIF." Thereisnothere.org.
Artists Books / Catalogs
2019
Studies, published by Innen Books on the occasion of Printed Matter's LA Art Book Fair at The Geffen Contemporary at MOCA, Los Angeles, CA
2018
Hayal Pozanti: Murmurs of Earth, text by Adriana Blidaru, published by Jessica Silverman, San Francisco, CA
2017
63 (average number of days it takes to break a bad habit), published by Small Editions NYC 001, published by Brooklyn Academy of Music (BAM), H. Pozanti, Small Editions NYC, New York, NY
Selected Lectures / Talks
2023
In conversation with Peter Halley, Timothy Taylor Gallery, New York, NY
2022
Visiting Artist and Guest Speaker, College of Charleston, Charleston, SC
2021
Visiting Artist and Guest Speaker, Princeton University, Princeton, NJ
2020
Visiting Artist and Guest Speaker, Rhode Island School of Design, Providence, RI
2019
Seven on Seven conference, organized by Rhizome, New Museum, collaboration with Laura Welcher of the Long Now Foundation, New York, USA
2018
Guest Speaker, San Jose Museum of Art's Council of 100 Dinner, San Jose, CA
Hayal Pozanti in conversation with Holly Shen, Jessica Silverman, San Francisco, CA
Visiting Artist, California College of the Arts, San Francisco, CA
2017
In conversation with Franklin Melendez, Brooklyn Academy of Music, Brooklyn, NY
2016
From Minimalism into Algorithm, The Kitchen L.A.B series: Andrea Crespo, Liz Deschenes, Hayal Pozanti, and Alexander Provan discuss, The Kitchen, New York, NY
Freeportism as Style and Ideology?, panel featuring Kari Altmann, Julieta Aranda, Hayal Pozanti, and Brad Troemel, e-flux, New York, NY
Fellowships / Grants / Residencies
2018
Tamarind Institute of Lithography Artist Residency, Albuquerque, NM
2014
Tamarind Institute of Lithography Artist Residency, Albuquerque, NM
Public Collections
Eli & Edythe Broad Art Museum, East Lansing, MI
Case Western Reserve University, Cleveland, OH
Cleveland Clinic Collection, Cleveland, OH
Fidelity Investments
JP Morgan Chase Art Collection
Los Angeles County Museum of Art, Los Angeles, CA
New York Presbyterian Hospital, New York, NY
San José Museum of Art, San José, CA
Soho House Art Collection
Stanford Hospital, Palo Alto, CA
UCLA Grunwald Center for the Graphic Arts, Hammer Museum, Los Angeles, CA